650 Riders set to take on the MSBH sportive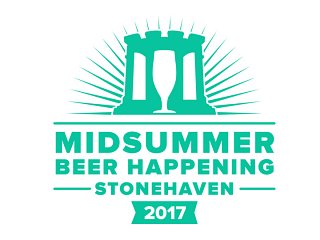 My word what have we created .. should we be surprised … a huge cycling town, excellent local club membership, brilliant beer festival, the best t-shirt, a free beer, wonderful countryside, home bakes, excellent weather !!!!! and all for just £20… well over 650 of you think so… thank you very much for supporting this event jointly promoted by MSBH and Stonehaven Cycling Club.

Starting and finishing in Stonehaven's Baird Park, home of the Midsummer Beer Happening on Saturday 17th June with three different routes to accommodate all abilities of rider whilst providing all a rewarding challenge.
UNDO 52m - 4,400ft (strava 4856355)
REDO 70m - 6,000ft (strava 4798258)
DINAEDO 101m - 8,250ft (strava 8960825)
We have adjusted a few items from our first two events with lessons learned… we hope you enjoy our festival of cycling and beer... gone are the nasty roads round the back of Auchenblae, added are additional feed stops (OK, you pass one three times if you're a DINAEDOOER), electronic chip timing and showers at the leisure centre and even a coffee on the way. We will of course have en-route support from two broom wagons and up to seven motorcycle outriders to assist and point you in the correct direction… remember to wave and thank all on the way.
Starting in waves from 8am with complimentary t-shirt, coffee, entry to beer festival, a beer… and sore legs… can't be bad for only £20, just please be safe… please respect other road users, road surfaces, cycling conditions and your fellow cyclists… make friends wherever you go and support our sponsors.
Rider information :
The focus of this event is on enjoyment - and a little self-reliance, but here is some helpful information.
PARKING
Free car parking can be had close by at Stonehaven Open Air Pool.
REGISTRATION
if you live nearby please help us and drop in past for your registration pack before Saturday.
You can collect your registration pack on:
THURSDAY evening from the Beer Festival Exit 5.30pm till 8.30pm
FRIDAY evening from the Beer Festival Exit 5.30pm till 8.30pm
SATURDAY morning prior to the event start from 7.15am till 7.45am
From the MSBH marquee exit
START
For 2017 we will start in the Baird Park it self between teh flats and the Marquee .. be ready for 7.45am briefing.
ROUTES
Routes will be marked by way of arrows, any marshals are there to indicate direction and help with any assistance required… marshals have no authority to stop or direct traffic.
UNDO (52M) with YELLOW arrows and then TURQUOISE arrows from just before Auchenblae in the Drumtochty Glen.
REDO (70M) with YELLOW arrows all the way.
DINAEDO (101M): .. we will be attaching over 300 route markers to trees poles and blades of grass….. This means we did not want to add another 200. Thus you will need to think a little about your route, please see the aide memoir below. Routes can be accessed on STRAVA, please see links above.
NOTE : DINAEDO ROUTE HAS CHANGED SLIGHTLY SINCE ISSUING …. You pass Strachan 4 times now to allow better utilisation of the feed stop .. you DO NOT take the Feughside to AA box road at any point.
We will do the shooting greens and the monument 1st (anti clockwise). 2nd time round after the Cairn o Mount you will do the monument and then the shooting greens.. clockwise
DINAEDO aide memoir :
YELLOW signs from start for 15m until the 1st feed stop
RED for your 1st loop of shooting greens and monument back to 1st feed stop
YELLOW signs again from the 1st feed stop over and back over the Cairn O' Mount to the 1st feed stop.
RED signs for your 2nd loop monument and shooting greens back to the feed 1st feed stop
YELLOW signs to finish back over the Garrol and the Slug.
Due to the above you will be delighted to hear we did not need to include the steep Slug at the end nor redo the Mowtie/Glithno hill again .. just straight back to Stonehaven from the quarry over the Slug.
Revised Strava Routes have been added to the web site
WAVES/START
Please register the evening before if you can .. if not arrive in plenty of time to be ready to start sharp.
Please note we have reversed waves this year and the fastest riders will be leaving in wave one first
Waves will depart at :
1stWave 8.00am (18mph)
2ndWave 8.15am (16mph)
3rdWave 8.30am (14mph)
4thWave 8.45am (12mph)
Each wave will have up to 250 riders .. we will split you into groups of approx 30 riders at two minute intervals.
If you have requested wave changes we will have adjusted this for you.
FOOD
Water, energy bars and bananas and our famous home bakes will be provided (Feel free to bring some along). Toilets are available at feed stops 1 (portable) and 2 (Clatterin Brig Cafe)… why not have a cup of tea and some cakes ?
Feed 1a). Strachan (UNDO/REDO/DINAEDO)
Feed 1b). Strachan (DINAEDO)
Feed 2a). Clatterin Brig (UNDO/REDO/DINAEDO)
Feed 2b). Clatterin Brig (REDO/DINAEDO)
Feed 3a). Strachan (UNDO/REDO/DINAEDO)
Feed 3b). Strachan (DINAEDO)
MECHANICAL SUPPORT
DINAEDOOERS ….. bring MORE TUBES than usual … the shooting greens has been surfaced with chuckies this week and it will be a warm day.
Provided during the event via motorcycle support (Scotia Motorcycle group) and broom wagon following the rear. You should however come prepared for all eventualities and be self sufficient.
There are showering facilities available next to the car park at the Stonehaven leisure centre
ROAD SAFETY
Safety and special considerations
Respect all road users
Keep your line – indicate changes in direction, holes and obstructions
All right hand turns – there are a number
All downhills, especially Cowton, Cairn O'Mount and the Shooting Greens in both directions where applicable. Sharp left hand turn at Clatterin Brig
We have AVOIDED the worst possibility of the Cairn O'mount being surfaced with chuckies this week …. Thank you to the council.
However THERE HAS BEEN EXTENSIVE ROAD SURFACING WORKS ON THE THE SHOOTING GREENS.. WE ANTICIPATE THERE STILL BEING A LOT OF LOOSE SURFACE DRESSING. THERE WILL BE SPEED RESTRICTIONS ON THESE ROADS OF 20MPH … IN MANY INSTANCES THIS IS TOO FAST ON SMALL TYRES WHEN CORNERING … PLEASE PLEASE DO NOT TAKE RISKS.
Feed 2a). At the bottom of the Cairn O'Mount at Clatterin Brig there will be feed stop. Riders NOT stopping should stay to the INSIDE, allowing riders taking the chance to stop to turn right as you go left.
Feed 2b). At the bottom of the Cairn O'Mount at Clatterin Brig there will be feed stop. Riders NOT stopping should stay to the OUTSIDE, allowing riders taking the chance to stop to turn left as you go straight on.
BODY & SOUL

Michael Levack of http://www.levackphysiotherapy.co.uk/ will be on hand at registration to provide any last minute taping and at the end for corrective remedies !!! He will have a small donations box.
Now get your glass, free entry to the festival and a free beer on us …. Thank you MSBH, Bike Remedy and Stonehaven Cycling Club.