What Should I Carry On A Club Ride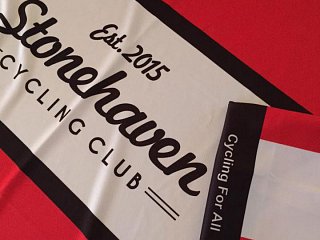 This is a question often asked by new riders. One thing all riders should expect is that at some point they will have to deal with the unexpected, whether that be changing weather conditions or some problem with your bike, such as a puncture or broken cable or chain. These should be considered normal (if unfortunate) and best way to mitigate these is to be prepared and familiarise yourself with the tools and techniques to deal with these.
Whilst you will often find others prepared to help, you should be self supporting to a degree.
We would recommend you carry the following:
Inner tubes and patches
it is much easier and quicker to swap an inner tube rather than repair it at the roadside. We would recommend you carry at least one inner tube (2 recommended) and patches. You can always repair the inner tube at home later.
Tyre levers
Modern road tyres can be pretty tight and these will help both removing the tyre and putting it back on the rim. A pair of plastic tyre levers make getting a tight tyre off the rim to fix a flat far easier. Look for ones that are stiff, hook onto the spokes and that clip together. Avoid metal ones as they can easily damage your rims. Be careful if you use the levers to put the tyre back on as it's easy to damage your new inner tube.
Pump/ CO2 canister
You will require a pump to re-inflate your inner tube. Modern mini pumps are useful, but ensure that it is capable of inflating tyres to the correct pressure. Road bikes tend to run much higher pressures (around 100psi) than mountain or commuter bikes so check your pump is capable. CO2 or mini inflators are extremely light and quick and will inflate your tyre in seconds. Many club riders carry these and a pump. If using a CO2 pump ensure you know how to use it safely and that you have a couple of canisters of CO2.
Multitool
A good quality multitool is a must, so if your seat post, stem or any other bolts needs adjusting then this will help. A tool with a chain break can be handy in the event of a broken chain.
Quick release chain link
Multitool chain tools are fine for removing links from broken chains but tend to be slightly hit or miss for rejoining them. An quick release chain link provides an easy solution. Check you have the correct model for your make of chain (11, 10, 9 speed). Many riders will have quick release chain links on there chain from purchase. We still recommend you carry a spare and even try installing one at home so you are familiar with what is required.
Mobile Phone
Carry a phone. Sometimes, it may prove impossible to fix a repair at the road side. This will allow you to call a friend for assistance (or a taxi) if required. Ensure your phone is charged sufficiently to last the period of time you will be out ! Case charger covers can help extend battery life of your phone for those epic rides!

Money
Carry some cash or a card (you'll need it for that coffee and cake). We would recommend both. You may need to call a taxi or purchase spares on route so ensure you have sufficient for all eventuality's . Cash is clearly a more flexible option.

ID
It is far easier for the emergency services to identify you and to get in touch with your family or friends if you're involved in an accident. As well as the names and numbers of your emergency contacts you should also include any important medical information such as allergies or known conditions.
Gilet or Waterproof jacket
Lightweight, gilets and jackets fold down easily small enough to fit in a jersey pocket but even on summer days (especially in Scotland) the weather can change, so these are still a good idea to carry. It's easy to get cold when stopping for a repair or, on hilly rides and on longer descents.
Food
On longer rides a crucial part of cycling is ensuring you have enough fuel in you to prevent you running out of energy ('bonking'). There are a wide range of nutritional products available, gels energy bars , etc. You may prefer home made alternates such as flap jacks. Ensure you keep fuelled that means drinking and eating as you go. If your thirty or hungry its to late !
Spare Cable (optional but good for long rides)
A broken brake or gear cable can end a ride very quickly. It is worth considering carrying a spare brake and gear cable. You won't be the first rider to ever find themselves stuck in a very high gear miles from home. Again learn how to fit these, its a technique you will be glad you learned.
Finally another video which may help: