SCC Group Cycles - Choosing Your Group?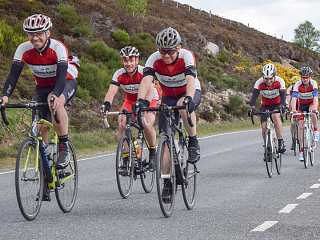 We are now almost into June and the evening cycles are becoming increasingly popular. There have been recent comments about choosing a group so you have a decent cycle and hopefully can start and finish as a group.
Being honest about your abilities can be hard with some of us being over cautious and going in to slow a group and others selecting a group that is too fast for them.
Remember the cycle is not just about you and we all want to have a good time. So be honest about your ability and don't select a slow group and then blow it apart or go with a fast group and then complain about being dropped.
Traditionally the slower groups have left first and the faster groups have headed off later. However last week there were only a few fast people out and they opted to leave slightly earlier. As a result some people missed enjoying a group ride. If you plan to ride in the faster group please still come along by 1825 and enjoy the chat before heading out. Or let someone know that you plan to come and then they will wait.
Last week some groups opted to head out the Auchenblae Road and remember nothing is set in stone. Get a group together, make new friends and lets ensure that everyone is included.
If you are not happy then please help us by making constructive comments about how we can improve the rides. We are all busy people and we cycle for pleasure.
This is after all the clubs main goal.
We are also always looking for people who are prepared to give up one Wednesday evening to accompany the beginners. There have only been a few to date who have helped out and I know the beginners really appreciate the support.
Please ensure that you cycle in a group of no more than 8 people, that you use correct hand signals and verbal warnings as appropriate. You should have a puncture repair kit with you, rear bike light and always wear a helmet.
Some thoughts on how to choose your group to cycle with:
Beginners:
This is for people in their first year of road biking. You will probably be averaging between 10-12 mph and will be keen to get a few tips from other riders. The usual route is out the Auchenblae Road and sometimes with a Swanley add on. You will be capable of riding between 1-1.5 hours.
We encourage you to download a cycling app on your phone e.g. Strava or Cyclemeter to help you track your average speed and improvements.
Improvers:
This is your second or more of road biking. You are comfortable riding at speeds between 12.5-13.5 mph average and have a bit of experience group riding. And comfortable using your gears.
You have possibly done a sportive, Ride the North or are training for one this year. You are happy to have a social cycle and do not want to be put under to much pressure. You will probably cycle 1-2 times per week but want to do more if time allowed.
Medium slow:
You have been cycling for a few years or are coming back to cycling after a break.You can average between 13.5 -14.5 mph and are confident in a group and can chain gang. You will be comfortable going round the short route and would like to tackle the longer evening route. You will possibly cycle 2-3 times per week and have tackled some big climbs or plan to do some this summer. Ride the North or a sportive is defiantly on the agenda and you are keen to improve.
Medium:
You can average approximately 15-16.5 mph on an evening ride over 25-30 miles and are comfortable doing longer distances at the weekend. You have possibly worked hard at turbo over the winter and are seeing the rewards now. You are almost ready to jump a group and have the medium fast group in your sights for this summer.
Medium fast:
You can average 17-18 mph on an evening ride and can cycle in a controlled group setting, responding to changes in pace. You will probably cycle 3 -4 times per week. You are happy on big climbs and enjoy longer distances or short faster rides. You will have sweated it out over the winter at turbo and put in some good winter miles.
Fast:
You are very comfortable at 18 plus mph on the evening rides and like to have a very fast blast with jelly legs at the end. You will have very good group skills and are comfortable in a compact group, can respond quickly to changes in pace and have a good few years of cycling under your belt or have youth on your side.
Faster:
You have lots of years cycling under you belt and maybe used to be a racing snake back in the day! Happy if you can have a good fast blast in the evening. You would rather be on your bike than cutting the lawn!
Racing snakes:
You have experience racing and love to go very fast!! How fast can you go?