Sunday Cycles - Start Again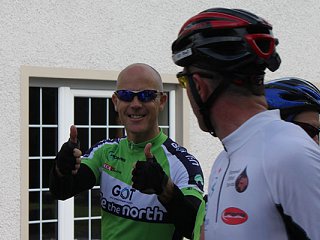 In an attempt to get a few more riders out on a Sunday in groups of equal ability, Stonehaven Cycling Club is to LEAVE at 9am each Sunday rain or shine at the town square…. so be 5 minutes early and can we get away sharp.
Rides have been going on for decades at this time from the square... thus all should be welcomed .. good if everyone can work together to get more folk out on their bikes in structured groups.
To get things started Geoff Veitch and Robert Lindsay(not there this week) have offered to lead groups…. they will need someone to share the load for these groups when they are not around.
The social and racing snake groups could do with a lead rider or two… hands up anyone ?
**Anticipated groups :**
- G1. Club Run 30m inc. tea stop
- G2. < 15mph 40-50m inc. tea stop (lead Geoff)
- G3. < 17mph 50-60m (lead Robert)
- Racing snakes 60m+
As your fitness improves move up a group having a recovery day move down a group.
As the year progresses distances will increase and earlier starts may be required.
Need more miles go out an hour early or peal off and do an extra loop… (let the group know)
Could the fastest groups leave 1st especially if you are using the same roads.
**Routes :**
Each week routes to be posted on a Friday
GPX files and suggestions gratefully received for future weeks.
**Ideas :**
Please post on Facebook and we can try to incorporate.
**This weeks routes :**
Routes will be posted on the Friday but will be open to change according to weather and wind direction ... no point in riding over the Cairn in drifts or down the coast into a gail !!! This is especially the case for the G4 who have traditionally decided on the day.
- G1. Barras - Arbuthnot - Fordoun (under pass) - Castleton (coffee) - Auchenblae - Home
- G2. Auchenblae - Drumtochty Glen - Clattern Brig (Cofee) - Fettercairn - Auchenblae - Home
- G3. Slug - Strachan - Cairn - Fordoun - Arbuthnott - Coast - Home
- G4. Slug - Strachan - Cairn - Fettercairn - Laurencekirk - Garvock - Coast - Home
There are no rules but some advice ….
**Bring :**
Food and water
Essential repair equipment
Cash for coffee & cakes
Weather protection